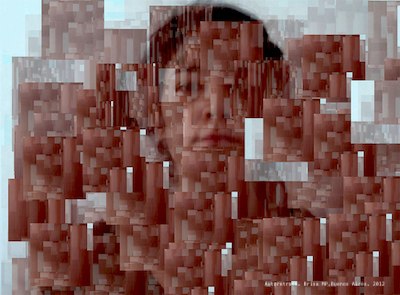 © brisa_mp_
Artista transdisciplinar i dels nous mitjans, llatinoamericà establert a Barcelona. Les seves recerques i creacions es troben en un territori híbrid on el cos i la tecnologia es troben. A inicis del 2000 va començar a realitzar encreuaments entre la dansa i mitjans electrònics, la qual va impulsar la seva recerca entorn del cos-tecnologia, per donat pas el 2020 al projecte LUCHA IA, una maquina-cos -escolta, parla i interactues amb l'espectador i els performer per col·laborar en la construcció escènica i la comunicació des del llenguatge a través de la veu com cos-.
Brisa ha participat en esdeveniment a Amèrica, Europa i Oceania. Entre els quals es troben: «PERPRETACIONS» Festival de Performance (Barcelona, 2022), «Cicle Màquina- Persona», ISEA extended UOC, Sala Beckett (Barcelona 2022). PDE, Master Class. Fundación Teatro a Mil & Goethe Institut. (Xile, 2021). "DYSCORPIA Body and Technology", exposició col·lectiva. About Light Gallery, (Edmonton.Canada 2021) . "DHRA Digital Matter Congress", Humboldt University. (Berlin 2021). "PDE. Programa de Direcció Escènica" Teatro a Mil i Goethe Institut (Xile 2021). "Lumo Light Festival Oulu", (Finlàndia. 2019). "Remote Signal" , exposició col·lectiva. (Tallin 2018). "Festival IDNPLUS", Mercat de les Flors (Barcelona 2018). ISEA (Austràlia, 2013) CYNETART (Alemanya, 2013), entre d' altres.
Brisa ha rebut la Beca de creació de la Generalitat de Catalunya (2020), suport per a la creació en residència del Centre Conde Duque (2020), Beca del Laboratori Interactius d'HANGAR (2019), Fundació Principe Claus (2010), Sogeda Prix «Mónaco Dance Forum» , IV Biennal de Dansa de Mònaco (2006) entre d'altres.
Brisa va cursar el Màster en Tecnologia i Estètica de les Arts Electròniques, UNTREF (2012. Buenos Aires). Postgrau en «Estudis i Projectes en Cultura Visual» UB (Barcelona 2006). Va estudiar Pedagogia en Dansa a la Universitat d'Arcis entre el 2001 i el 2004 (Xile). És Llicenciada en Arts Visuals de la Universitat Arcis (Xile, 2001).
Actualment dóna continuïtat a la seva recerca Protobody I Dancecode des de la Intel·ligència artificial, Coslíquid , comunicació i agencia interespècie. Coordina el Projecte BIONICA dones, art, tecnologia i societat, i és estudiant del Màster d'educació Interdisciplinària de les Arts a la Universitat de Barcelona.
Transdisciplinary artist based in Barcelona – Spain. My research and creations are in a hybrid territory where the body and technology meet.

I work in the converge of different disciplines: Performance, dance, visual arts, installation, code art another technologies. I am interested in Art as tools of human interaction and as a means of knowledge.

I am interested in organic and artificial matter, the movement as interface of communication between human and non human organisms species, I am re-think about of human bodies to the future, I'm re-think about of human bodies to the future.

Also, my work re-thinks the relationship of the technology, body and political , as a "Power" play notion, producing spaces of collaboration between spectator- artist- machines to think critically about technologies and art.

My research approach the hand made work, low technologies, recycling, free hardware and free software as political practices and gender resistor, against of technology traditional notion understand as territory of male domination.
I was at Festivals and meetings in Latin America, Europe and Oceania, such as : «Perpretacions» Performance Festival. (Barcelona, 2022). «The Machine & Person» UOC. ISEA2022 , Sala Beckett (Barcelona, 2022). PDE-Master Class Teatro a 1000 Foundation & Goethe Institut, Chile. 2021 Digital Matters, Berlin. 2021 Dyscorpia Body and Technology exhibition, About Light Gallery, Canada. Paratex 52, Hangar, Barcelona. 2019 LUMO Light Festival. Fine Arts Museum of Oulu. Finland. BAC body and image Biennial of Madrid. Spain. 2018 IDN PLUS, Image, Dance & New Media. Mercat de les Flors. Barcelona. Spain. 2016 "Remote Signal» Collective Exhibition (Curator: Pau Waelder) Estonia 2013. CYNETART Computer based Art Festival. Germany. ISEA. 19th International Symposium on Electronic Art. Sydney University. Australia. "Fluorecent Screens» Collective exhibition.(Curator: Javier Galán) eTopia Art & Technology Center. Ibero-American Congress of Cultures. Saragossa. Spain.
I collaborated in the European METABODY project. I´m Artistic Director of INTERFACE Art, Body, Science and Technology Festival and FIVC International Screendance Chile Festival. I am the coordinator of BIONICA women, art, technology and society.
I was in artistic residencies at: Canódrom Digital Innovation and Democracy (Barcelona, 2021), Conde Duque Art Center (Madrid, Spain). MediaLab L´Estruch (Barcelona 2020- 2021) HANGAR (Barcelona, ​​2019 and 2014), MAKER SPACE at Sant Agusti Center (Barcelona, 2019), CoLaboratorio HUARTE Center (Pamplona, Spain ​​2017), eTOPIA Art and Technology (Zaragoza 2013), Ze Dois Bois (Lisbon 2007).
Grants for the projects : ICUB Barcelona Culture of Barcelona (Barcelona-2021). Artistic Creation Grant of Catalonia Department- Government of Catalonia (Barcelona-2020). Support for creation in residence CONDE DUQUE (Barcelona-2019) Interactive Laboratory Grant of HANGAR (Barcelona-2019). SOGEDA PRIX – IV Dance Biennial of Monaco (Montecarlo, 2006) Principe Claus Foundation (Holland- 2010). FONDART Culture Ministry of Chile and DIRAC, Ministry of Foreign Affairs.
I am student of Master in Interdisciplinary Education of the Arts. Barcelona University (Barcelona 2021-2022). I studied Master in Technology and Aesthetics of Electronic Arts, UNTREF (2011-2012, Buenos Aires). Postgraduate of Visual Culture Studied and Projects, Barcelona University (Barcelona 2006). Degree in Visual Arts, Arcis University (Santiago of Chile, 2001). I studied Dance Arcis University (2001-2004) and free studies of contemporary Dance in Sweden, Spain and Argentina.